Shortly on Story Mode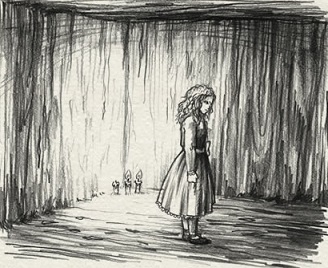 Written by Jubaris on a cold rainy day at Sage's Keep.
Article on story mode and its discredited status due to implicit association with Ancient Lore.
Page 1 – Content and Intro
Page 2 – The Point
Intro
In the beginning of our realm, the creator was not alone but he brought souls to help him shape the world.
There was one called Adi who gave birth to something we experience as story mode, following the vision of Mur.
As people appeared, curiosity about story mode was spread.
Adi was asked questions about characters met during story mode, he indulged and developed their background stories further and further.
This deviated from the vision of the creator, making the path to understanding the nature of the realm hardened by an obstacle – invalid information.
Long story short, years after, some situations lead to Mur banning 'ancient lore'.
All those background stories were hunted down and erased or properly distanced, making a situation where a new person has it hard to stumble upon those stories on his own.
But because Mur was vague and unclear in his statements – this created confusion.
What was exactly 'ancient lore'?
The mentioned background stories were certainly banned, but did it extend to story mode? Confusion is understandable, because there were characters that appeared both in original story mode, and the stories that came later.
Mur wanted the actual history of the realm, deeds done by actual people that were to be referenced by others, rather than fiction – a problem which was at its highest in the beginning. When there's little behind, people rely on mythos and fiction.
Currently we don't have that sort of a problem, result of a combination of the judging of ancient lore and unfolding of actual events and legacy of people's actions.
Focus shifted from story mode leaving it marginalized, and now it is not uncommon for people to be dismissive of it, equalizing it with ancient lore.
However, I am of firm belief that story mode is not 'ancient lore', and not to be dismissed by wanton thinkers and ponderers – case I will try to argue in the following pages.